Available in North America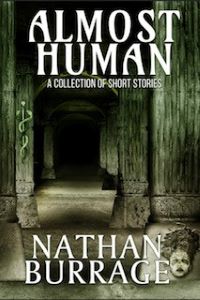 Almost Human – my new collection of short stories – is now available for purchase in North America. Here is the back cover blurb:
Humanity: are we really capable of change? Or are we doomed to play out the same Acts over and again, where only the props and backdrops vary?
In this collection of short fiction, you will encounter stories set in a near future, where neuroscience and technology are used to rehabilitate convicted criminals with unexpected results. In the icy winter of a distant Transylvania, a struggle for freedom from Ottoman oppression unfolds. In the present, one man struggles to accept his failed marriage and to provide what his daughter needs. A pair of cursed lovers live out multiple incarnations, doomed to always find one another, yet never be together. And when a mythical figure walks amongst us, his notes in the margins of history become clear.
The past, present and future blur when we consider what it is to be Almost Human.
The collection is available through multiple outlets. IFWG Publishing have very kindly summarised purchasing links: